ENVISIONING YOUR BRAND
C stands for:
Customer, Challenge, Circumstance, Creativity, Commercialism, Connection, Coalition, Culture, Change.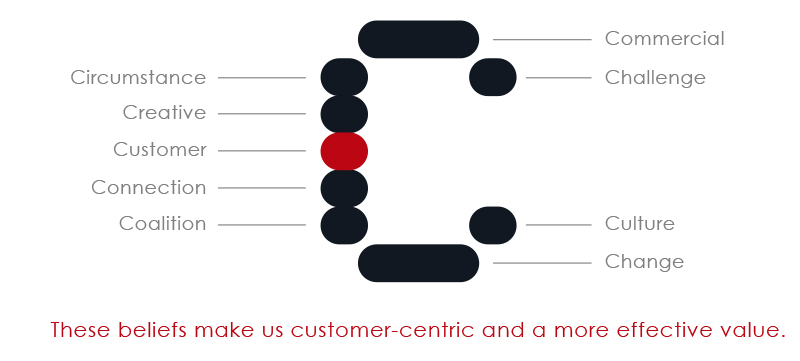 ---
BRAND STRATEGY
INCREASING MIND SHARE BEFORE MARKET SHARE
Brand building is an integral aspect of personal and business development. Every touchpoint to which consumers connect is the "moment of truth" (MOT), which decides how consumers perceive the brand. C Media fulfills the role of a strategic partner, co-creating brand strategy with the client.
• Market Analysis and Brand Evaluation
• Clarifying Brand Strategy
• Developing Brand Architecture, Positioning and Context
• Designing Brand Identity
• Creating Touchpoints and Managing Brand Assets
MARKETING COMMUNICATIONS
CREATING A PRODUCT THAT SELLS
Marketing is far more than a range of tactics regarding sales and promotion. It also involves strategic analysis and planning, which provide the foundation for the success of those tactical elements. C Media provides marketing communication services, aiming to create a product that sells, as opposed to merely selling a product.
• Identifying Target Customers: Segmentation, Targeting Analysis
• Creating Customer Values and Value Proposition
• Creating Sustainable Competitive Advantages
• Managing Products and Services Communication
• Developing Tactics for Business Growth
DIGITAL SOLUTION
#CMEDIA

digital

native
We bring brands to life through powerful, engaging experiences, from strategy to execution. With expertise in the digital and creative fields, we constantly strengthen our professional services, such as front- and back-end programming, creative & UX design, hardware customization, dual-language copywriting and marketing promotion, serving the needs of local and international Clients.
• UX/ UI Wireframe Design
• Websites and E-commerce Development
• Hardware Digital Solutions
• Viral Social Contents Development
• O2O Campaign Planning and Development
---
C Media people are creative folks who are production-minded. We are production professionals who collaborate creatively and work together on solutions for each client's ultimate goals. We do not allow creative without consequence, nor do we value speed without quality. We fit each creative element to the strategy.
• Creativity
• Consequence
• Speed
• Quality